Kabaddi, an exciting hybrid sport between tag, dodgeball and wrestling is making a comeback in India's national consciousness. It is a unique sport that requires agility, strength, and strategy, making it a fascinating spectacle to watch. Over the years, it has gained immense popularity in India, and it is now one of the most-watched sports in the country. With Hollywood stardom at its core and significant economic backing behind it, this form of play offers both glamour and serious financial potential for investment. In this article, we will explore the history of kabaddi, its rules, and its current status in India.
Also Read : About Kabaddi: A Comprehensive Guide for Fans
History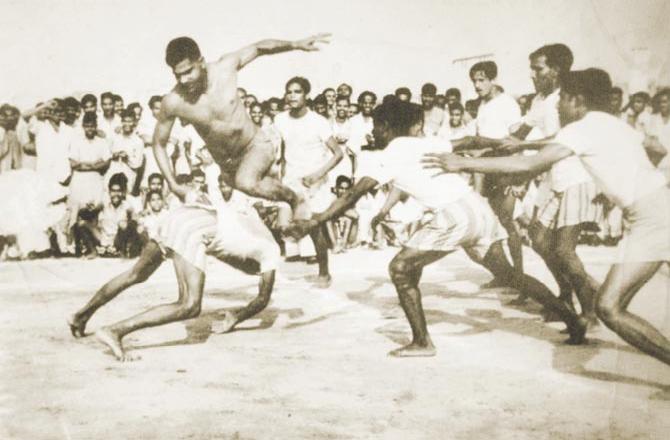 Kabaddi is believed to have originated in ancient India over 4,000 years ago. Although its exact roots remain obscure, one story suggests it was created as a tribute to Abhimanyu from Mahabharata. It was played to develop the physical strength and agility of young men. The sport was originally known as 'hadudu' in Tamil Nadu, 'chadukudu' in Andhra Pradesh, and 'kabaddi' in Maharashtra.
Kabaddi was introduced as a demonstration sport at the 1936 Berlin Olympics, but it was not included in the main event. In 1950, the All India Kabaddi Federation (AIKF) was formed, and the sport began to gain recognition in India. The AKFI organizes international and national tournaments for men and women of both genders. Furthermore, zonal competitions are organized while promotion of the game through tournaments held specifically for juniors and sub-juniors is promoted through championships held.
Rules
Kabaddi is an engaging team sport requiring minimal equipment. Similar to rugby and wrestling, players perform in bare chest. Rules are straightforward and have high audience appeal. It is a contact sport that is played between two teams of seven players each. It courts measure 13 by 10 meters, divided between raiders and defenders. Those on the offensive are known as Raiders while those attempting to stop them are called Defenders. It is a fast-paced and engaging game which demands both physical and mental strength from its participants.
The objective of the game is to score points by raiding into the opponent's court and touching as many players as possible without being caught. Team members on defense must remain united to effectively capture and surround raiders, earning bonus points if they touch the midline of the opponent's half. Any time someone is tackled or steps outside bounds he/she is declared out.
The rules are as follows:
The game consists of two halves of 20 minutes each with a five-minute break in between.
Each team sends one player, known as the raider, into the opponent's court to score points.
The raider must touch one or more players on the opposing team and return to his own court without being tackled by the defenders.
The defenders try to stop the raider from returning to his own court by tackling him.
If the raider successfully touches one or more players and returns to his own court, he scores one point for his team.
If the defenders tackle the raider, the raider is out, and the defenders score one point for their team.
The team with the most points at the end of the game wins; otherwise it ends in a tie.
Also Read : Kabaddi Rules: A Beginner's Guide to the Thrilling World
League
Kabaddi has come a long way since its humble beginnings in ancient India. Today, it is one of the most-watched sports in India, and the Pro Kabaddi League (PKL) has played a significant role in popularizing the sport.
The PKL was founded in 2014 with eight teams and has since grown to 12 teams. The league has attracted top players from India and around the world, and it has helped raise the profile of kabaddi in India. The league has also provided a platform for young players to showcase their skills and compete at the highest level.
Also Read : A Comprehensive Introduction to Pro Kabaddi Teams in India
Popularity in India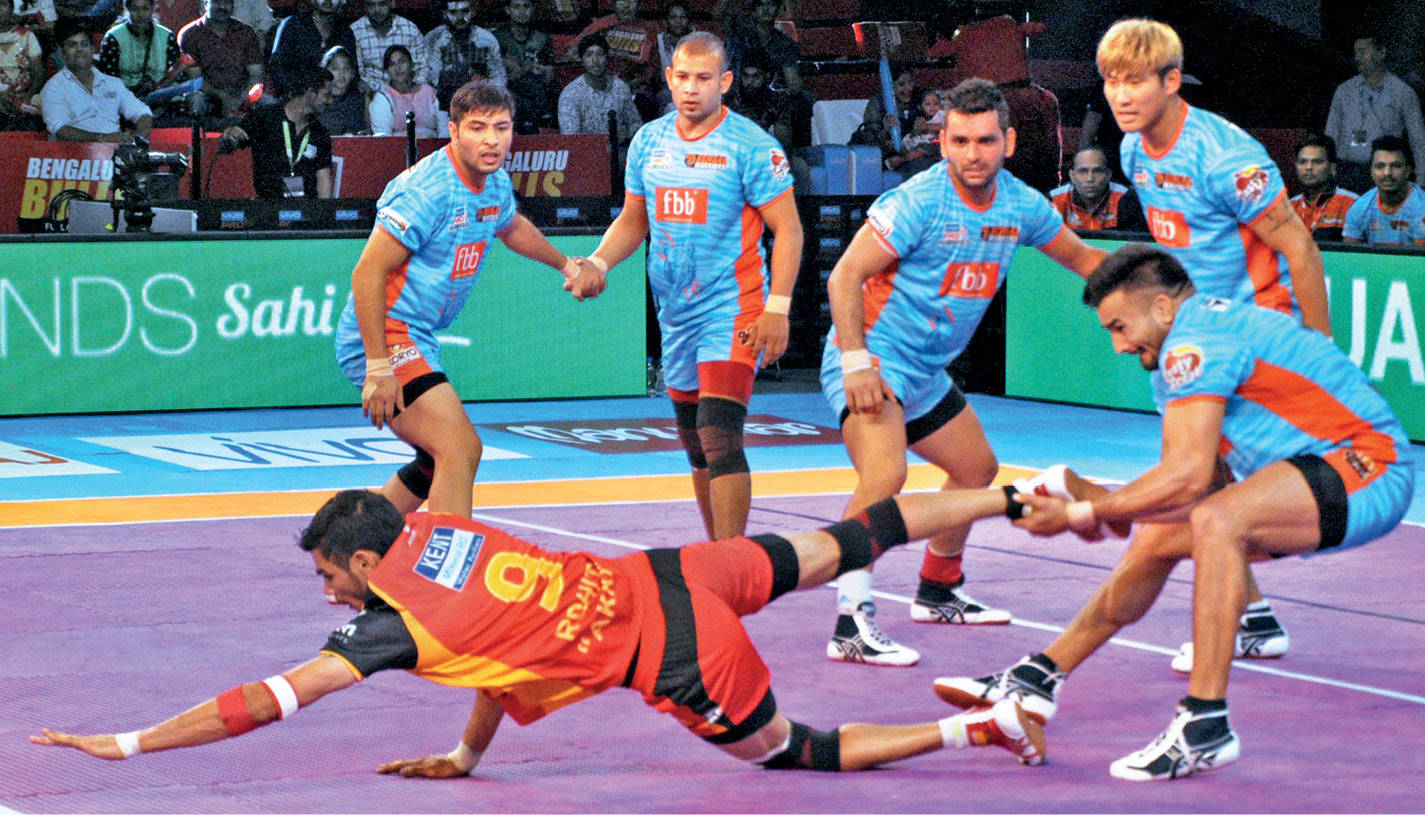 Kabaddi's popularity in India has grown exponentially in recent years, thanks in part to the success of the PKL. The league has helped bring to a wider audience and has made the sport more accessible to fans.
According to a survey conducted by the Indian Express, kabaddi is the second-most-watched sport in India after cricket. The survey found that 22% of respondents watched kabaddi regularly, compared to 41% who watched cricket. Thanks to PKL and television coverage, it has become more fashionable and glamorous than ever, becoming more popular with urban India as well.
To provide a better understanding of popularity in India, we have compiled some key statistics and facts in the table below:
| Statistic/Fact | Description |
| --- | --- |
| Number of PKL Teams | 12 |
| Number of Players in a Team | 7 |
| Total Prize Money in PKL Season 9 | Rs 3 crore |
| Most Successful Team in PKL | Patna Pirates (3 Championships) |
| Number of Kabaddi Medals Won by India at Asian Games | 8 Gold, 1 Silver, 2 Bronze |
| Most Expensive Player in PKL | Pawan Sehrawat (INR 2.26 crore) |
| Number of Kabaddi Teams in Rural India | Over 400,000 |
Examples in Popular Culture
Kabaddi has become an integral part of Indian popular culture, and it is often referenced in films, television shows, and music. Here are some examples in popular culture:
The Bollywood film 'Ok Jaanu' features a song titled 'Humma Humma,' which includes a kabaddi sequence.
The television show 'Bhabiji Ghar Par Hain' features a recurring character who is a kabaddi player.
The film 'Chhichhore' features a kabaddi tournament as a major plot point.
FAQs
Q: How popular is kabaddi in India?
A: It is very popular in India, particularly with rural audiences. The PKL has helped to increase its popularity and has attracted millions of viewers.
Q: What is the Pro Kabaddi League?
A: The PKL is a professional kabaddi league in India that features 12 teams and is played over several months each year. It has helped to popularize the sport and has attracted top players and sponsors.
Q: How many kabaddi teams are there in rural India?
A: There are over 400,000 teams in rural India, highlighting the sport's enduring popularity and cultural significance.
Conclusion
Kabaddi is a unique and fascinating sport that has captured the hearts of millions of fans in India. It is a sport that requires agility, strength, and strategy, making it a thrilling spectacle to watch. The sport's rich history and rules make it an intriguing cultural phenomenon, and its current popularity in India is a testament to its enduring appeal.
With the success of the PKL, the sport has found a new level of recognition in India and is slowly gaining fans across the world. Its enduring popularity is a testament to its rich history, rules, and cultural significance. As kabaddi continues to grow and evolve, it is sure to remain a vital part of India's sporting culture for years to come.