Kabaddi is a popular contact sport in India and has gained significant popularity globally in recent years. Pardeep Narwal is a well-known Indian kabaddi player. Currently representing UP Yoddha in VIVO Pro Kabaddi League and India National Kabaddi Team.
At worth Rs 20 Crore Pardeep Narwal is one of the best-known players in Pro Kabaddi, known for his agility, speed, and skills on the field. A highly decorated raider, he led Patna Pirates to three consecutive VIVO Pro Kabaddi titles under Patna Pirates captainship as a raider with multiple raiding records held. Additionally, UP Yoddha bought him for Rs 1.65 crore signing him as part of their team roster.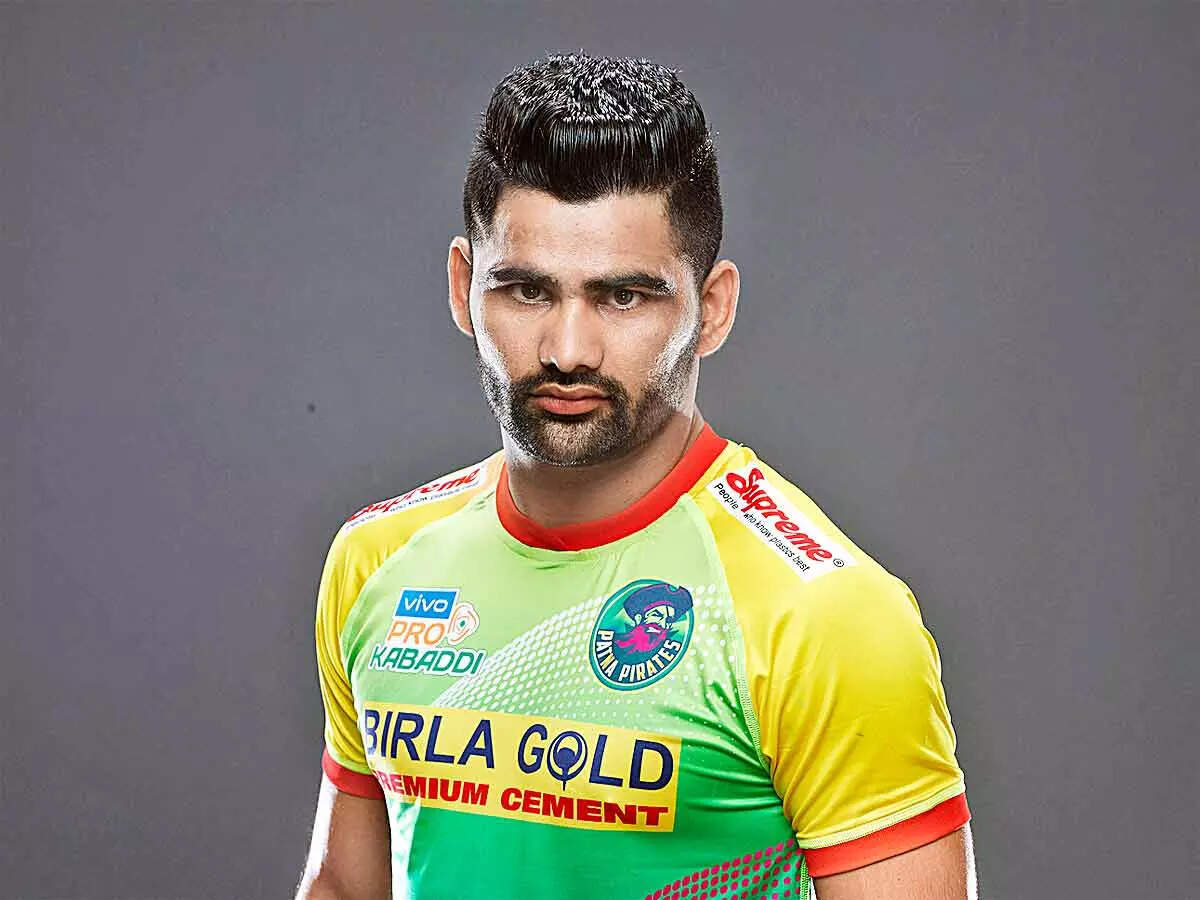 Kabaddi is an exciting and captivating new sport that connects people. In this article, we will explore the life, achievements, and skills of Pardeep Narwal, the Pro Kabaddi superstar.
Early Life and Career
Pardeep Narwal was born on February 16, 1997, in Rindhana, Sonipat district, Haryana, he hails from a Hindu Jat family. His father was a farmer, and his mother was a homemaker. Narwal was born into a family where his father wanted him to focus on academics; however, his passion lay elsewhere. Although a high school graduate, he plans on devoting himself solely to kabaddi.
Starting playing for his school's under-11 team at age eight and training at Haryana Kabaddi Academy under Manpreet Singh and Naresh Narwal respectively, Narwal quickly become adept in this sport. Narwal's journey in Kabaddi started when he joined the Sports Authority of India (SAI) center in Sonipat. He initially played as a raider and showed great promise.
Rise to Fame
Kabaddi is an immensely popular sport in India. One of the best players, Pardeep Narwal of UP Yoddha in VIVO Pro Kabaddi League and Indian National Kabaddi Team is Pardeep Narwal who is best known for his flawless "dubki," enabling him to get out of tackles easily.
Narwal made his debut in the Pro Kabaddi League (PKL) in 2015, playing for the Bengaluru Bulls. In his debut season, he scored a total of 9 raid points in six matches. Later moving to Patna Pirates for season 3. He continued his impressive performance in the subsequent seasons, and in 2016, he became the first player to score 100 raid points in a single season.
Soon thereafter he emerged as one of the premier raiders in the league, becoming top raider and winning three consecutive PKL championships with them. Narwal's exceptional performance earned him the title of the 'Most Valuable Player' in the PKL for two consecutive seasons in 2016 and 2017.
"Dubki King", widely considered to be the premier raider in the world. Additionally, he holds multiple high jump records and graduated high school – choosing instead to focus solely on kabaddi instead of going onto university studies.
Playing Style and Skills
Pardeep Narwal made his VIVO Pro Kabaddi debut with Bengaluru Bulls during season 2, then led Patna Pirates to three consecutive championship titles from seasons 3, 4, and 5. As all-time leading raider in PKL history and numerous records for raiding, Pardeep Narwal remains an icon in PKL today.
Narwal is known for his agility and speed on the field, which makes him a formidable raider. He is also known for his signature move, the 'dubki,' where he dives under the opponent's outstretched arms to score points. His ability to execute this move with ease has earned him the nickname 'Dubki King.' He is widely considered one of the greatest raiders ever seen in PKL history.
Narwal's performance in the PKL has been remarkable, and he holds several raiding records in the league, providing young kabaddi players with inspiration. He is the all-time leading raider in the PKL, with 1577 raid points to his name. He also holds the record for the most points scored in a single season, with 369 points in the 2017 season.
Achievements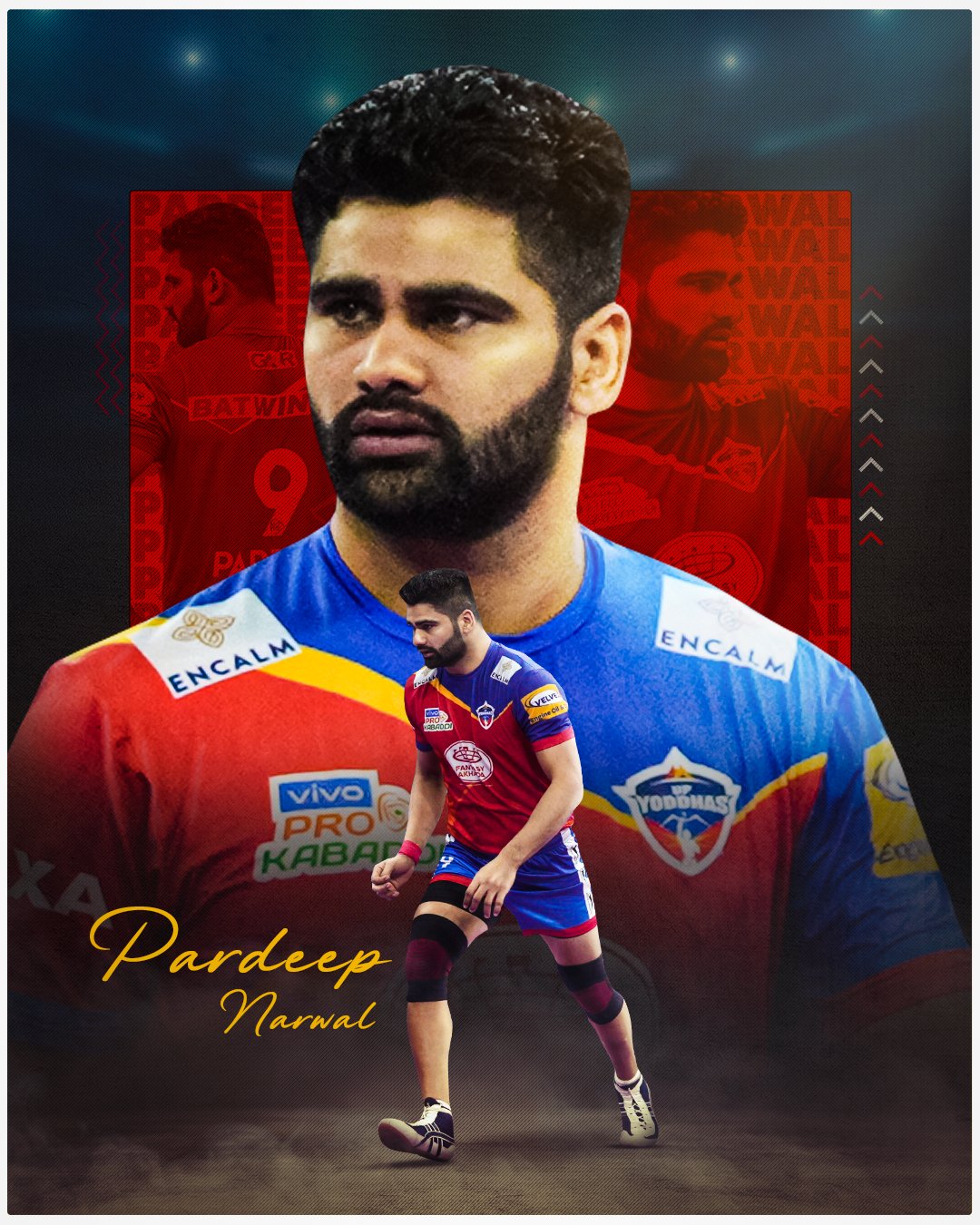 Pardeep Narwal's achievements in Kabaddi are numerous. Some of his notable achievements include:
Most Valuable Player in PKL (2016, 2017)
Best Raider Award (2017, 2018)
Most super raids in a season
Most touch point in a single raid
PKL title winner with Patna Pirates in Seasons 3, 4, and 5
Most raid points in a single PKL season (369 points in Season 5)
All-time leading raider in PKL history (1577 raid points)
Kabaddi World Cup (2016)
Asian kabaddi championship (2017)
Kabaddi Masters Dubai (2018)
Pardeep Narwal's Record in the PKL
Pardeep Narwal's record in the PKL is truly exceptional. He has played in 153 matches and scored a total of 1577 raid points, making him the all-time leading raider in PKL history. He has also scored 79 Super 10s and 73 Super Raids, demonstrating his consistency and ability to perform under pressure.
Narwal's performance in the PKL has earned him several accolades, including the 'Most Valuable Player' award in Season 5 and 6. He has also led the Patna Pirates to three PKL titles in Seasons 3, 4, and 5. He is also the first player to score 1,500 blitzes in PKL history, that was against the Gujarat Giants in the ninth season of the PKL against UP Yoddha.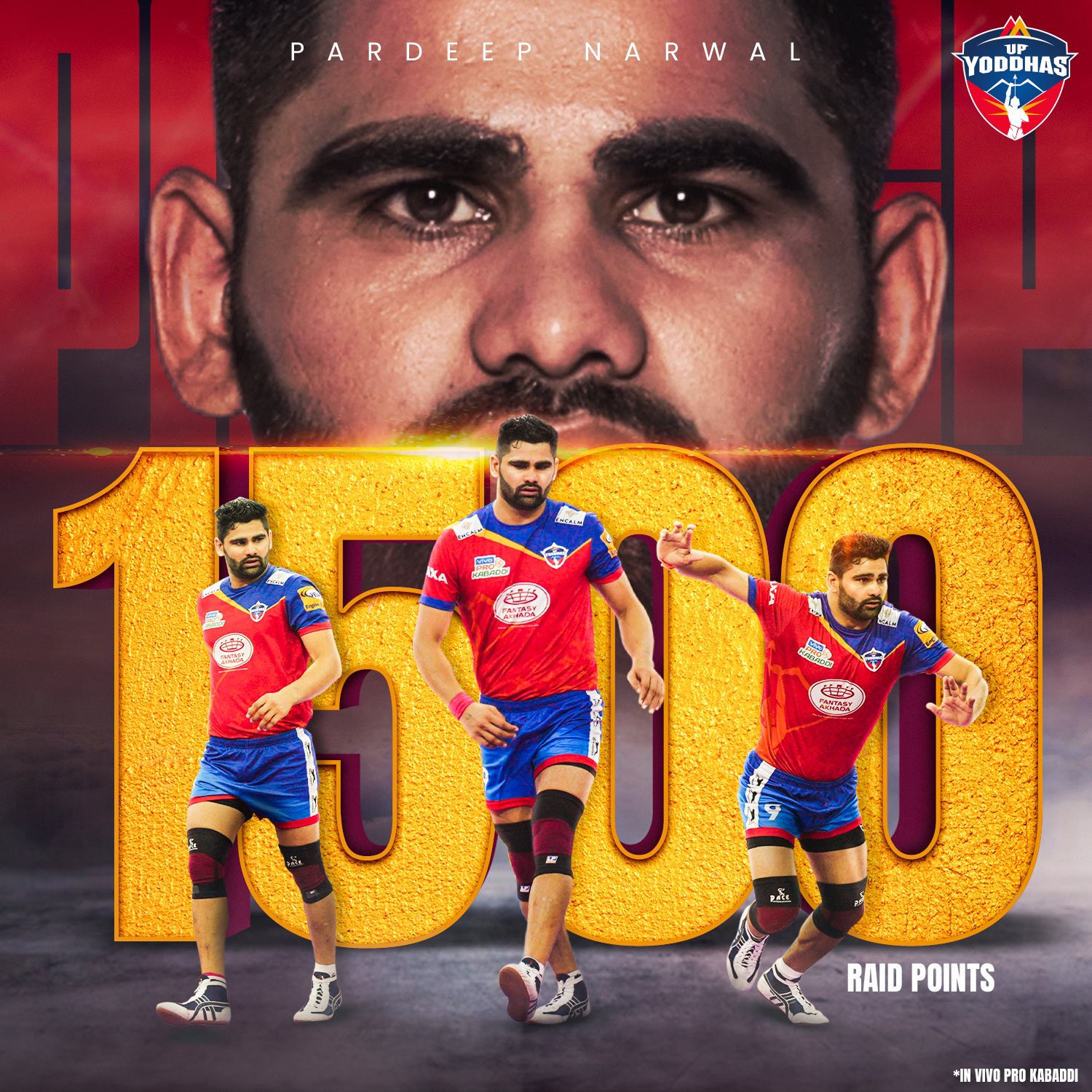 | Season | Team | Matches Played | Raid Points | Super Raids | Super 10s |
| --- | --- | --- | --- | --- | --- |
| 2 | Bengaluru Bulls | 9 | 9 | 1 | 0 |
| 3 | Patna Pirates | 16 | 121 | 10 | 5 |
| 4 | Patna Pirates | 16 | 133 | 3 | 5 |
| 5 | Patna Pirates | 26 | 369 | 18 | 19 |
| 6 | Patna Pirates | 21 | 233 | 6 | 15 |
| 7 | Patna Pirates | 22 | 304 | 14 | 15 |
| 8 | U.P. Yoddha | 24 | 188 | 12 | 9 |
| 9 | U.P. Yoddha | 22 | 220 | 9 | 11 |
Also Read : Review PKL 9 Highlights: UP Yoddhas, Tamil Thalaivas, Dabang Delhi KC
Conclusion
Pardeep Narwal is a true icon of Pro Kabaddi and has inspired many young players to take up the sport. His journey from a young boy in rural Haryana to becoming a global Kabaddi superstar is a testament to his hard work, dedication, and passion for the sport. His skills on the field, dedication, and hard work have made him a role model for young players aspiring to succeed in Kabaddi. Narwal's achievements have earned him a place in the history books of Kabaddi, and his legacy is sure to inspire future generations of Kabaddi players.