The Pro Kabaddi League is India's second-most watched sports league and has given talented players from around the globe a platform. One such player is Mohammadreza Chiyaneh who stands out as being amongst its most prolific defenders over time, becoming an instant fan favorite due to his incredible performances.
Mohammadreza Chiyaneh is a renowned Kabaddi player from Iran who has made significant contributions to the sport. He was born on 26 March 1987 in Qom, Iran, and started playing Kabaddi at a young age. Born and trained in Orumiyeh city of west Azerbaijan province of Iran he has trained diligently since age 12 in order to be a formidable left corner defender.
Also Read : Pro Kabaddi League Proves the Growth of Homegrown Sports in India
Mohammadreza Chiyaneh is one of the premier defenders in the PKL. Patna Pirates purchased him through an intense bidding war for their ninth edition of PKL. Unflappable and playing with full dedication, Mohammadreza has made a lasting impactful impression in season nine by earning numerous tackle points.
Raiders typically steal the show in Pro Kabaddi. But rarely are defenders given such prominence – which explains why left corner Mohammadreza Chiyaneh of Patna Pirates has made such an impressionful performance, becoming known for his powerful tackling prowess and earning himself an admirer's respect.
Style of Play
Chiyaneh is known for his aggressive and fearless style of play. Has been a standout ever since joining the Pirates in season 8, replacing fellow Iranian Fazel Atrachali, setting records throughout his debut campaign and becoming their primary defender. His agility and speed on the mat make him a tough opponent for his rivals.
Chiyaneh has earned fans' admiration with his exceptional defensive abilities. His signature moves include ankle holds and back holds, playing fearlessly across the mat. Furthermore, his powerful blocks can do considerable damage against raiding units. A fan of acrobatics, he loves entertaining audiences with his actions on the mat; his flair and passion for kabaddi remain unsurpassed; as evidenced by being retained by the Pirates for Season 9. A fiery defender, he plays fearlessly on the pitch.
Patna Pirates have relied heavily on him this season, amassing 84 tackle points across 20 matches. Additionally, he leads all PKL Season 8 defenders with 10 high fives being given out for his impressive defensive work. His brilliant defense helped drive his team all the way towards final victory!
Mohammadreza Chiyaneh executed all his tackles successfully
On 19 November at Gachibowli Stadium in Hyderabad, Patna Pirates star player Mohit Kumar put in an extraordinary Pro Kabaddi League performance against Dabang Delhi KC. He scored 16 tackle points and 8 super tackles – surpassing the record set by Neeraj Kumar and Manjeet Chhillar – and would likely have had even more had he not been declared self-out for stepping out of bounds during one tackle attempt. An astounding feat in its own right, showing immense courage against some of the game's premier raiders but managing not to lose his nerve.
During the Pro Kabaddi League, Mohammadreza Chiyaneh set a new record for the highest number of tackle points scored by an individual player. Chiyaneh, who played in the left-corner defender position, scored a total of 19 points, which included 16 tackles and 3 raid points, against Dabang Delhi KC. It is rare for a defender to score this many tackle points in one match.
Chiyaneh's exceptional performance contributed significantly to Patna Pirates' victory as he single-handedly scored 70 percent of the team's total score, which was 27 points. All of his tackle points were scored in super tackle situations, and he received excellent support from his teammate, the experienced cover defender Neeraj Kumar, who provided him with good assists. As a result, he was named player of the match!
Also Read : Top Defender in Pro Kabaddi 2022: Crucial Part of Kabaddi
Achievements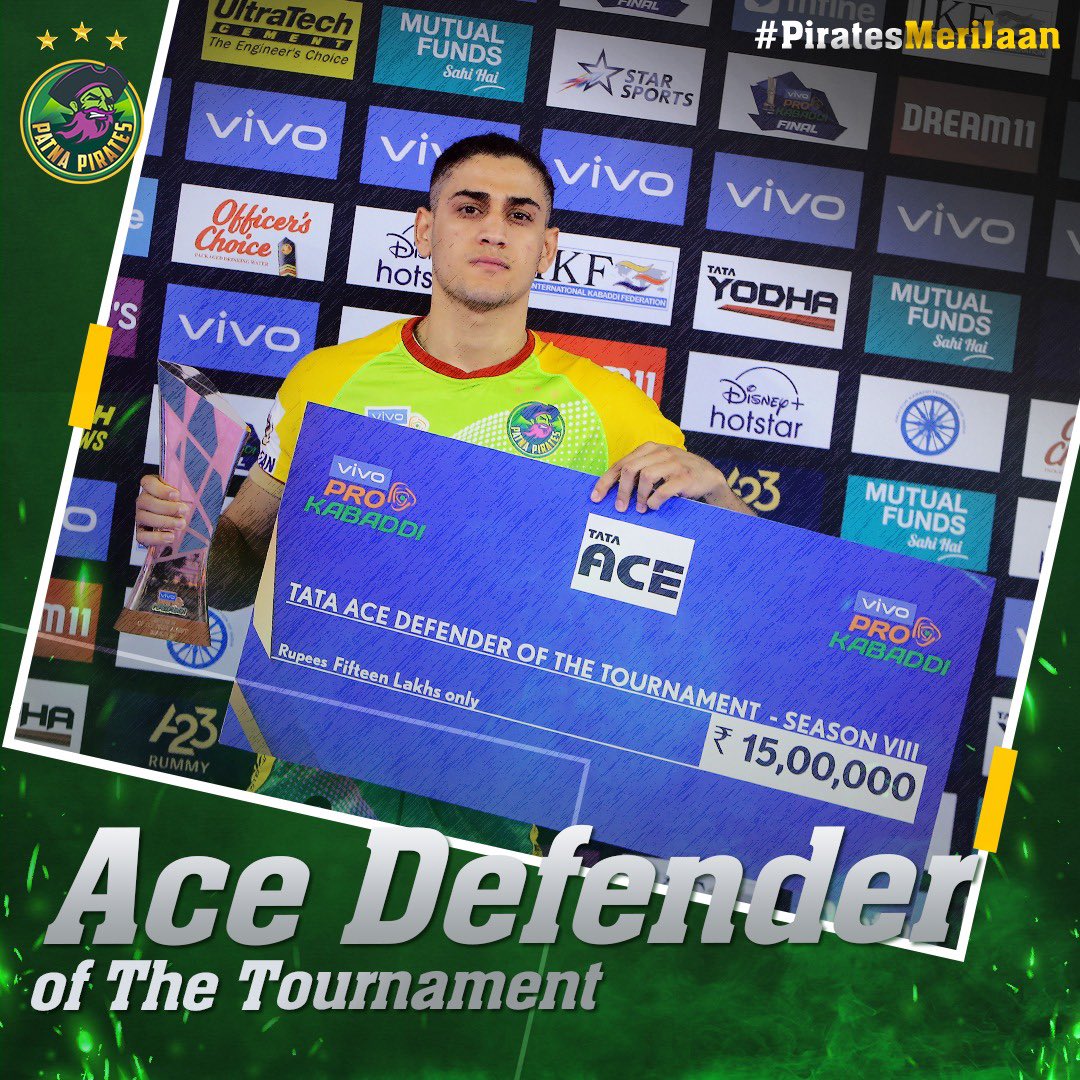 Mohammadreza Chiyaneh is an all-rounder for Patna Pirates in the Vivo Pro Kabaddi League, having appeared in 20 matches this season and scoring 84 tackle points. Additionally, he was involved in ten super tackles and six High 5s. As a highly coveted left corner defender in kabaddi, Chiyaneh will prove invaluable for the team. With stellar performances like those exhibited recently he is making headlines worldwide.
Chiyaneh is known for his impressive performance in the sport, and he has won several awards and accolades for his skills and achievements. Chiyaneh's career in Kabaddi started when he joined the national team in 2007. Since then, he has been an integral part of the team and has played a significant role in its success.
He has been a part of the Iranian national team. Over the years, he has participated in several international tournaments, including the Kabaddi World Cup, Asian Games, and the Asian Kabaddi Championship. He earned the silver medal at Kabaddi Masters Dubai 2018 while ranking as a C Category All-Rounder at auction for Pro Kabaddi Season 8.
Chiyaneh has also been recognized for his individual contributions to the sport. He was awarded the Best Raider award in the 2010 and 2016 Kabaddi World Cups. In addition, he was named the MVP in the 2016 Kabaddi World Cup.
Here is a table summarizing Chiyaneh's achievements:
| Tournament | Year | Award |
| --- | --- | --- |
| Pro Kabaddi League | 2021 | Best Defender of season |
| Pro Kabaddi League | 2022 | Second-highest Tackle Points |
| Dubai Kabaddi Masters | 2018 | Runners-up |
| Kabaddi World Cup | 2007 | Runners-up |
| Kabaddi World Cup | 2016 | Runners-up |
Also Read : Kabaddi World Cup 2025: Which country will be the host city?
Conclusion
Mohammadreza Chiyaneh is a talented Kabaddi player from Iran who has made a significant contribution to the sport. He is known for his aggressive and fearless style of play, and his agility and speed on the mat make him a tough opponent for his rivals. Chiyaneh's achievements in Kabaddi are numerous, and he has won several awards and accolades for his skills and contributions to the sport. It will be interesting to see if any defender manages to break Chiyaneh's record in the coming days.